From smoky, fall-off-the-bone BBQ pork to sweet, melt-in-your-mouth jamón ibérico de bellota, pork has played an influential (and tasty) role in the day-to-day lives of many cultures throughout the world. And we've picked some of our favourite pork dishes that have been cured, smoked, dried or fried to perfection but be warned – it's guaranteed to make you hungry.
Salami, Italy
Best enjoyed on a platter with bread, cheese and other cured meats or as a pizza topping
Italy is famous for its cured meats and exports many delicious pork products to be devoured around the world – one of the most popular is Italian salami, of which there are hundreds of different kinds. Typically, these marbled sausages are three to four inches wide and are made with ground pork and fat, seasoned with garlic, salt and spices and stuffed in a natural casing made from a pig's large intestine. They are then hung and air-dried, smoked or salted then left to age – depending on what type, size and the desired meat-to-fat ratio, this process may take between four to eight weeks. It's best enjoyed thinly sliced on a platter with bread, cheese and other cured meats or as a pizza topping. Visit Emilia-Romagna, which is arguably home to some of the best salami in Italy, basing yourself in the city of Piacenza. And after you've had a bellyful of this local delicacy, head back to rest at La Meridiana R&Breakfast.
British pork sausages, UK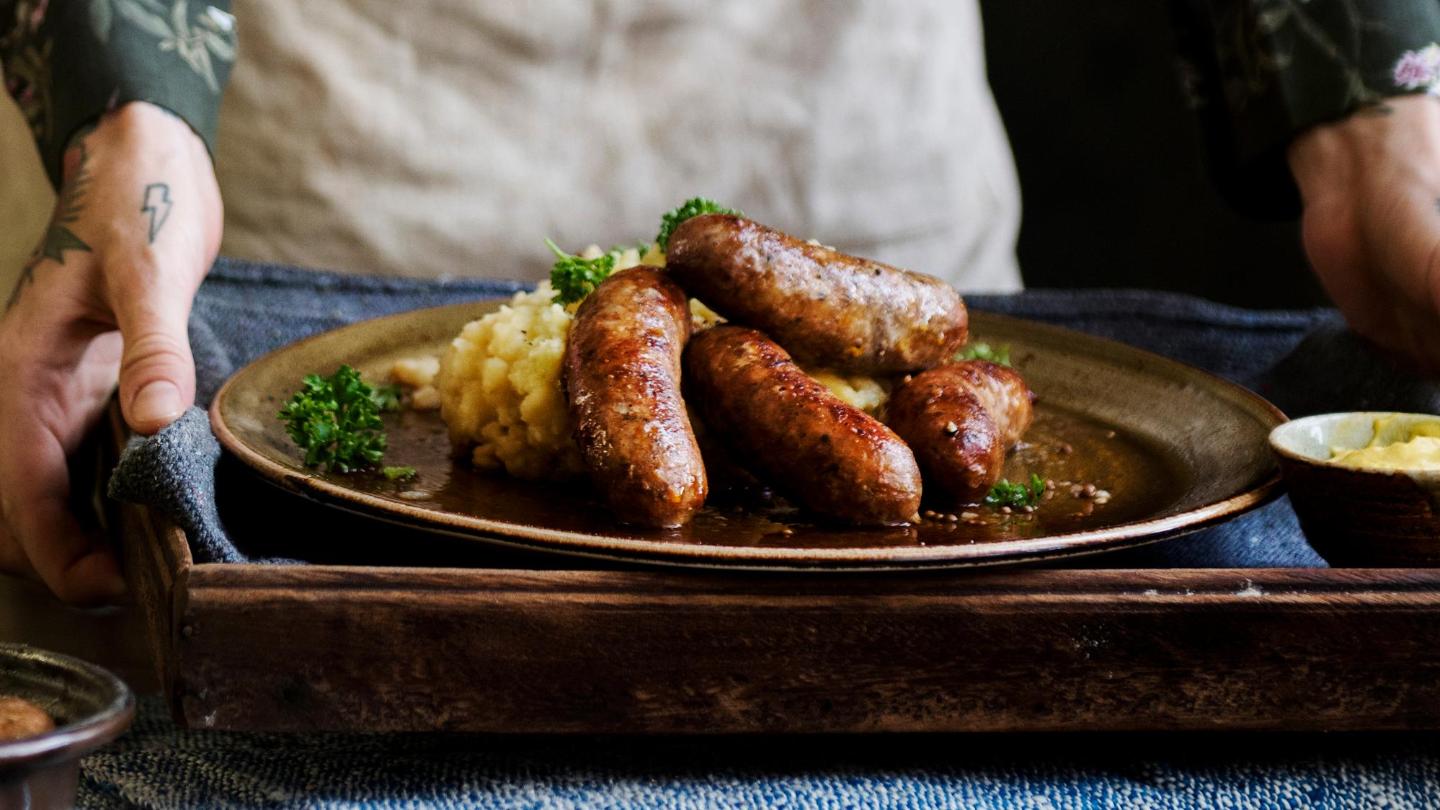 Try a classic and comforting dish of 'bangers and mash'
Aside from fish and chips, pork sausages are one of the most popular foods enjoyed throughout Britain. They're often more fondly referred to as a 'banger', a term that was coined during WWI when rationing meant that fillers and water were added to the sausages causing them to burst while cooking. Even though this isn't representative of the quality of ingredients used before or since – a decent British sausage will usually contain a variation of spices like white pepper, mace, nutmeg and sage, alongside refined, high-quality meat – the nickname stuck. Try a comfort dish of bangers and mash (pork sausages on top of a bed of creamy mashed potatoes, sometimes topped with a drizzle of gravy) at a typical British gastropub. Or if you'd like to cook them yourself, pop into Flock and Herd in Peckham, London, and pick up some of their award-winning pork sausages. Head back to the self-catering Landlondon15 Peckham.
Tonkatsu, Japan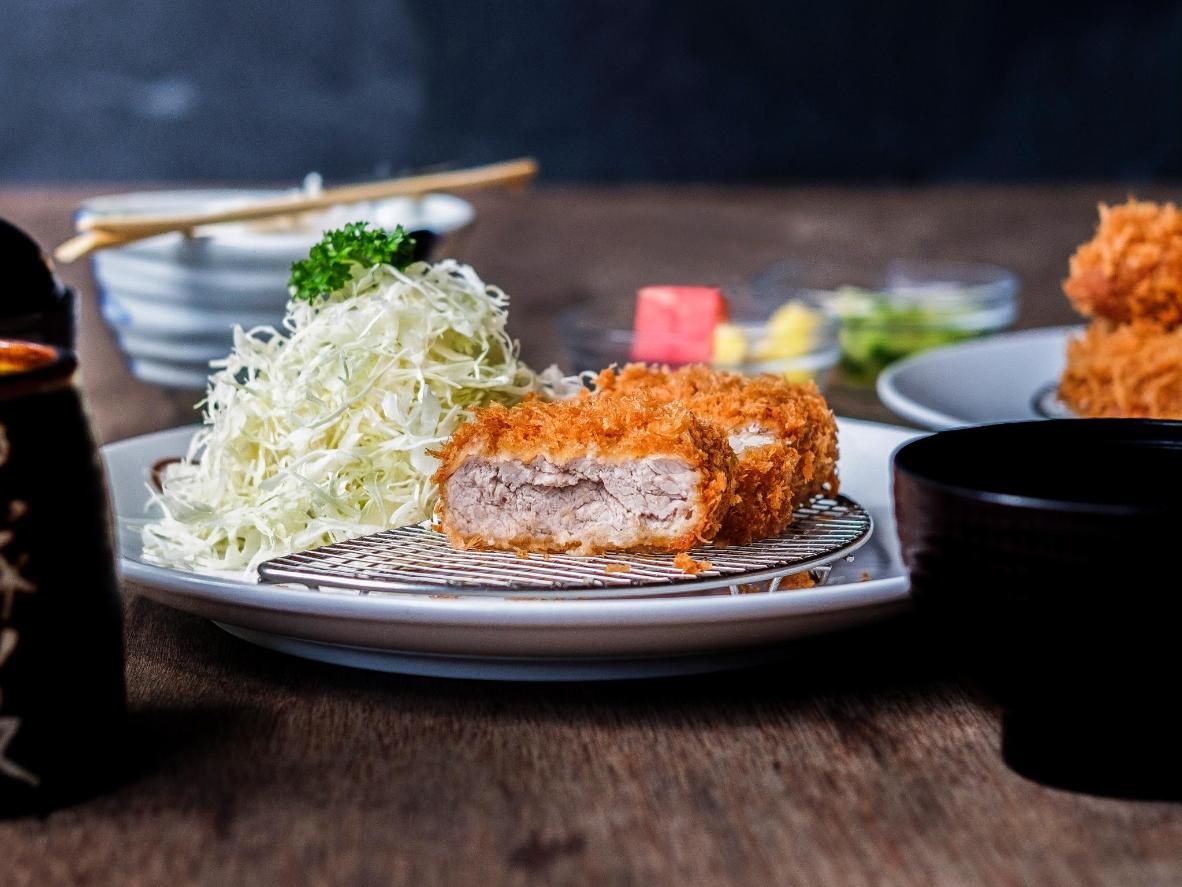 Breaded in panko crumbs, deep-fried and sliced
Pork is widely popular in Japan, with tonkatsu being one of its most common incarnations. 'Ton' translates to pork and 'katsu' derives from the Japanese word for 'cutlet'. It's a dish heavily influenced by European cuisine, since Portuguese merchants were the first to introduce breading and deep-frying as a cooking method to Japan (another aspect of their culinary legacy is tempura). The recipe involves the pork first being breaded in Japanese panko crumbs, then it's deep-fried and sliced thickly (in a way that's easy to eat with chopsticks). Traditionally served with a mountain-sized side of thinly sliced green cabbage and a brown sauce. Take a food excursion through Tokyo and stay at Hostel wahaku kura.
Jamón ibérico de bellota, Spain
Let the wafer-thin slices melt in your mouth
Known for its distinct acorn-rich, melt-in-your-mouth flavour – that takes up to three years to create – jamón ibérico de bellota has been crowned the most expensive ham in the world. The secret behind this perfectly marbled meat is the beast's – traditionally a black Iberian pig – diet, which consists of acorns naturally fallen from scrub oaks and cork trees. The curing process also plays a crucial role in refining its flavours; first, the hind legs are hung during summer to sweat out the fat, followed by complete immersion in pure sea salt for up to a week to preserve the meat. The legs are then hung again for between 40 to 90 days to ensure that the salt is properly infused, before going into the 'secadero' (drying room), where it dries and ripens for up to three years. This cured-to-perfection leg is traditionally brought out to the table and carved into wafer-thin slices – let it sit on your tongue and enjoy the melting sensation. Experience an authentic Andalusian meal in a homestay Alcazar de Eva Maria, which is renowned for its jamón ibérico production.
Stegt flæsk med persillesovs, Denmark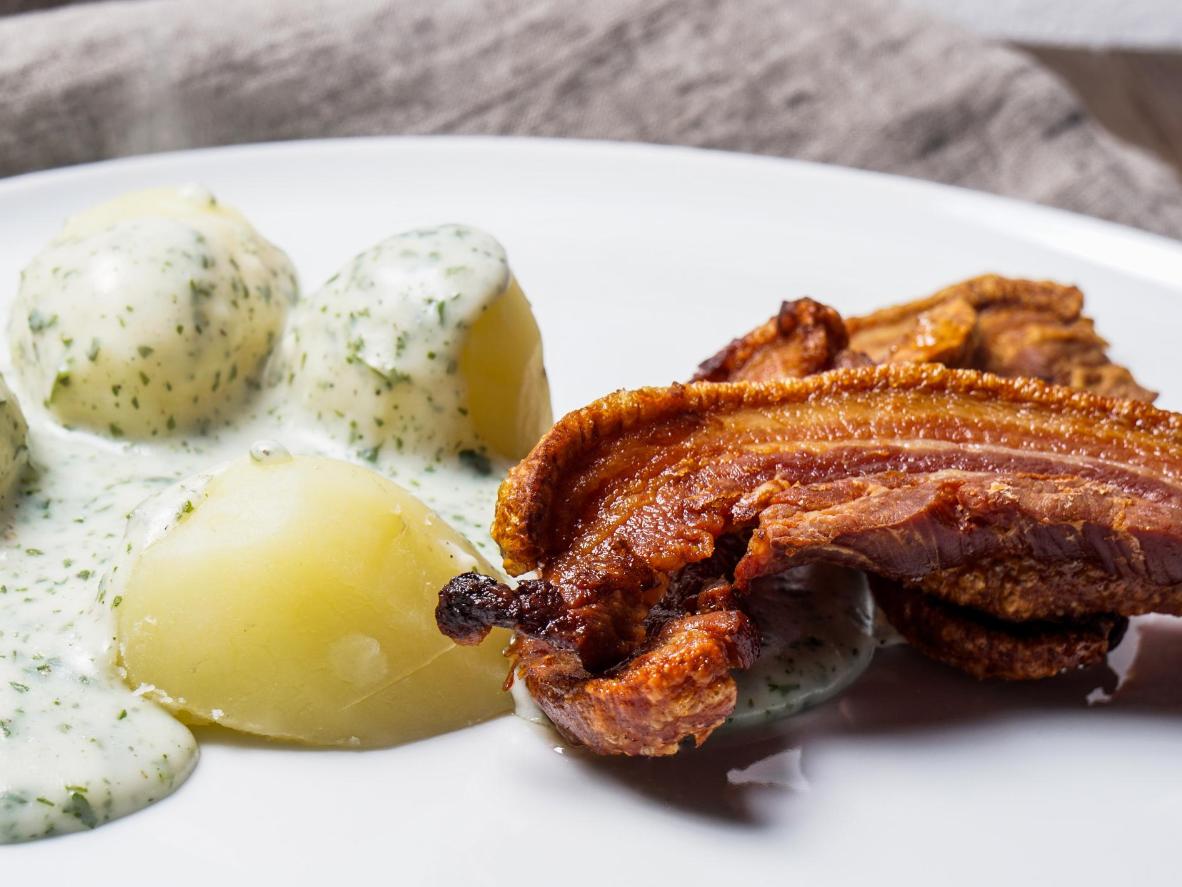 Roast pork with parsley sauce is Denmark's national dish
Denmark is one of the world's largest pork exporters, so there's little surprise it's also the most popular type of meat to dine on here. Stegt flæsk med persillesovs, which translates to roast pork with parsley sauce, is the national dish. Traditionally, thick cuts of pork belly are lightly seasoned with salt and fried until golden and crispy. A creamy, buttery white sauce with chopped parsley is then either drizzled on top or over a side of peeled, boiled potatoes. If you'd like to try it, you can find this dish in any number of restaurants throughout Denmark. After a delightful meal, come home and rest at Copenhagen Admiral Hotel.
Barbecue pork, USA
Find your favourite BBQ on the North Carolina Historic Barbecue Trail
Barbecue in the USA is a craft and a passion that has been passed down from generation to generation, along with fierce opinions about who does it best. Today, this fiery method of cooking meat still reins strong throughout the country but particularly in the southern states. Pork is the traditional meat used and is cooked in a fire pit for as long as 18 hours until the meat is so tender it falls off the bone – it's a long process, which is often considered a labour of love. The meat is then generously smothered in barbecue sauce, with many restaurants using their own top-secret recipe. Take on the barbecue challenge and visit the BBQ kings along the North Carolina Historic Barbecue Trail. Get a good night's sleep at Hilton Greenville before your first pit-stop at barbecue joint Skylight Inn in Ayden.
Tang Cu Li Ji (Sweet and Sour Pork), China
Crisp-on-the-outside and tender-on-the-inside strips of pork
Chinese sweet and sour pork is a dish known throughout the world but its western variant's flavour is more or less unrecognisable from the original recipe. The dish is traditionally made using thin strips of pork tenderloin, which have an egg and cornstarch coating. The meat is quickly fried until lightly golden, resulting in a crisp-on-the-outside and tender-on-the-inside texture. The strips then get smeared in a perfectly balanced sweet and sour sauce that complements the fresh pork. You can find incredible offerings of this feast anywhere in the capital of Sichuanprovince, Chengdu. And after a hearty serving, head home to rest at Xishu Garden Inn.